I studied at Swansea University and having graduated in 2000 with a 1st in Illustration, I began exploring various avenues in the commercial art world, namely children's picture book design.
I co-wrote (with my witty grandfather, who still has a ridiculously sharp brain on him) and illustrated a picture book called 'Horace the Acrobat', which follows the misfortunes of a clumsy bat – it all works out in the end though, hence the title! An expensive prototype was produced, cover to cover, but alas it wasn't to be. My children love the book though, and really look forward to reading it.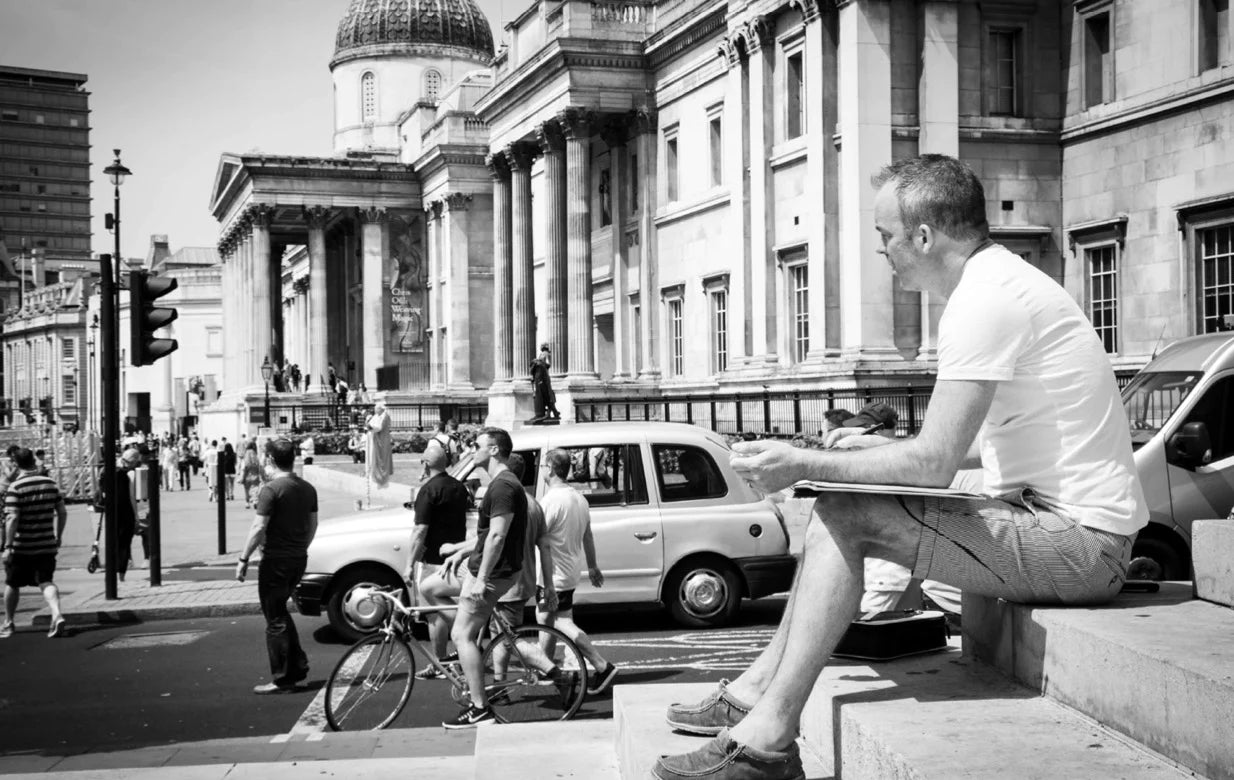 Around the year 2004, my wife and I took a holiday in the South of France and visited a beautiful town called Uzès. My senses were awoken! I was mesmerized by the light, colour and texture of the place. Bright awnings and parasols amongst weathered stone buildings, with shuttered facades and crumbling masonry. And 'les publicités anciennes' – huge, faded adverts from bygone days that used to be hand painted onto the sides of buildings. Maybe this is where my attraction to having text within a painting began. Every angle of this town was an artist's delight. With photos galore, I set about recreating what I'd experienced as soon as I returned. The resulting artwork proved successful with local galleries and also online with MyArtBroker and ultimately paved the way for my love of capturing cityscapes. Tom Butler the artist was born. Things went well for a while – I had a solo show in the foyer of a prestigious Theatre and sold originals now and again to galleries. But in order to subsidize life as an artist, I learnt a trade which became the regular day job. Before long set up my own Painting and Decorating business and for many years, the art career had to play second fiddle to earning enough to support a family and pay the bills – but it taught me valuable skills not to mention a keen business sense. I kept going with my art, producing paintings as often as I could for an agency that licensed my designs to various publishers worldwide. The Mediterranean themes running through my work at the time proved popular with greetings cards companies such as Medici.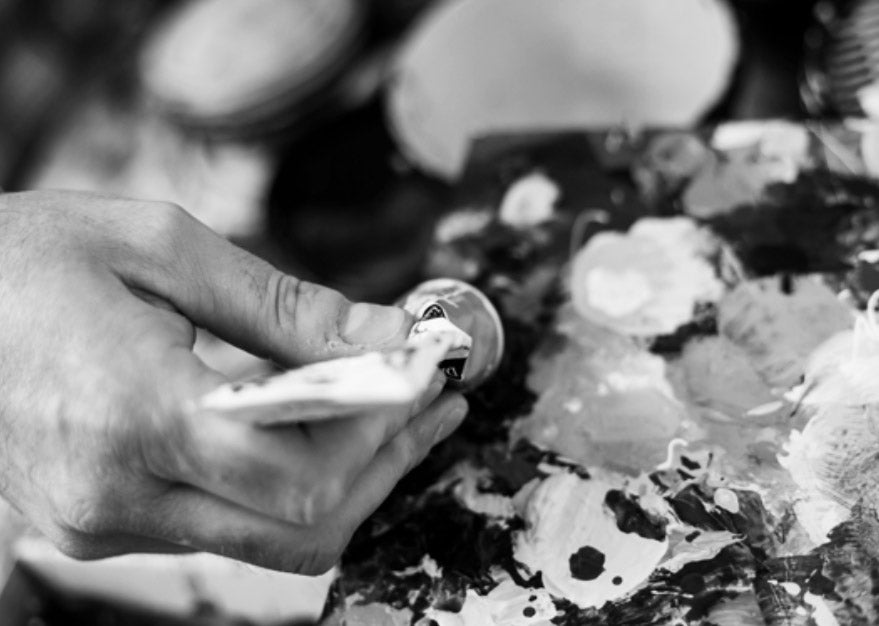 My technique and style have evolved enormously over the years. I began introducing mixed media into my work back in 2005, using Lasertran, a method of transferring photocopied material onto any surface, something I'd discovered whilst on my degree course.
The collage style is now an integral part of my artwork. It adds intrigue, resonance and (recently) a touch of humour. I've found it works best when there is an arrangement of man-made objects within the composition, including people! It continues to be an exciting way of working and I really look forward to getting back in the studio during the week (I don't have too far to go – my studio is just down the road!)
Subject matters have varied over the years, but I've really enjoyed studying London recently with all its old fashioned charm and bustle. Nothing shouts London at you then a Red Bus in Trafalgar Square or the bright lights of Piccadilly Circus. It's a place you could never tire of returning to. Other cities that appeal from an artistic perspective include Paris (my wife is from there and I have a definite affinity with the place), New York, Havana and of course Venice. I love to travel and discover new places and I relish the prospect of doing so as a full time artist in the future – what better excuse does one need? Let's hope the Inland Revenue see it as a 'necessary' self-employed expense!
Like my taste in music, my love of art is widespread. I really appreciate the use of colour and light by some of the Impressionist painters, namely Monet and Cezanne. At A-level I studied the work of John Singer Sargent, Kandinsky and the 1930's poster artist and typographer, A.M Cassandre. During my degree I was inspired by the talents of Norman Rockwell and Cartoonist Ralph Stedman as I learnt how to create expression in characters and bring to life illustrations. In later works, Stedman too began introducing collage to his splattered, grotesque depictions, especially anatomical diagrams! I love his satire and the raw energy in his work – the guy is a genius. And more recently I have been struck by the work of contemporary artists such as Luke Martineau, Mike Bernard, and Andrew Hood to name but a few. Anybody that can capture the essence of a subject matter with expression and vigour, gets my vote.
Family is of course number 1 in my life. Spare time is extremely rare at the moment, but I will indulge as often as I can in my 2 other passions, a game of tennis and playing guitar. I'm pretty handy in the kitchen too!
We live on the border of Berkshire, Surrey and Hants – it's a busy hub and far from picture postcard but does offer good schools and easy access to London or the countryside should you want it. My dream is to move to a coastal town somewhere in the south – maybe Devon or Cornwall. The idea of more space, clean air, beaches and a community feel really appeals. Plenty of inspiration too.
There have been lots of 'false starts' on the journey so far and I've been no stranger to disappointment. It's all par for the course. But I've kept going and kept the self-belief – a cliché I know, but true enough in this case. Being an artist is what I was born to do – simple as that.